Anyone who remembers the governor's daughter, Jen, practicing her calligraphy in
Crouching Tiger, Hidden Dragon
, or the sensuous and moving correspondence in the sand in
Hero
will understand the "cool factor" of Sino-Japanese brush and ink calligraphy. "Cool" is an utterly inadequate qualifier, however. 習字 (shuji—brush writing) is a discipline on a level with 柔道 (Judo), 剣道 (Kendo), and 合気道 (Aikido). It falls under 書道 (Shodo), the non-martial art of letters. It is no less a lifelong discipline than its martial kin, and can be a powerful means of projecting deep meaning, force and beauty onto paper. I have heard it said that some of the most treasured possessions of some universities in China are banners written for them by visiting persons of stature; Chairman Mao, for example.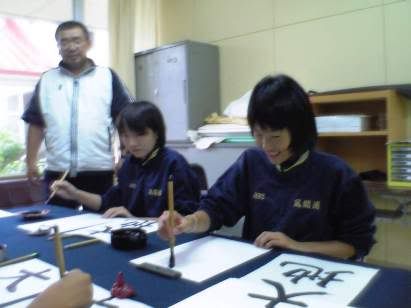 At Kazamaura Junior High School the art of calligraphy is somehow integrated into the already extensive extracurricular activities. These students are working through their after-lunch break.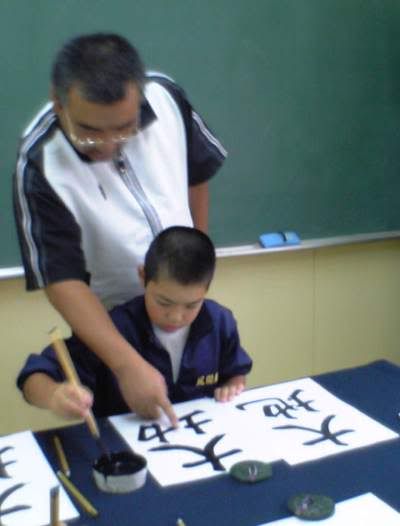 The shuji instructor is Abe-sensei, the 国語 (National Language) teacher.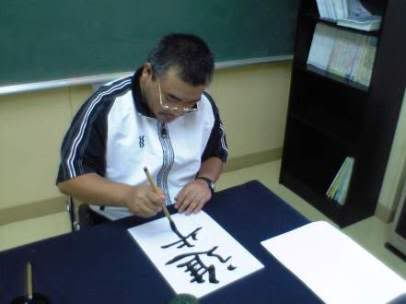 He's quite the old pro (although perhaps not on a plane with the masters).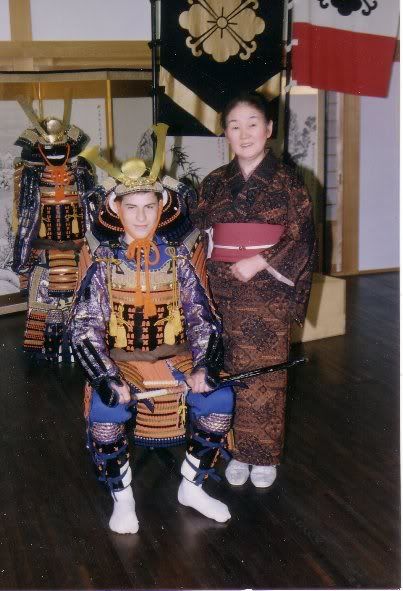 I used to do shuji in my youth, but unfortunately I don't have any action photos, or even photos of my finished works. Instead, I have included a photo of my shuji teacher and me at a museum in Ajigasawa displaying artifacts of the feudal seat of the first Tsugaru lord. Needless to say, this was taken some years back.