The Aomori Christian Centre (a.k.a. "Moya Camp") perhaps holds more fond memories for me than any other place in Japan. In fact, it was the first place I ever visited in Aomori back in 1981 when my parents participated in the Aomori Living English Seminar (now known as "
Aomori Living English Camp
") of that summer.
Sadly I have no photos taken during that period, so here is a group shot from 1994. Where's Gaijin? This past weekend, after participating in the Nebuta festival, I had an opportunity to catch the tale end of this summer's English camp and revisit my old haunts.
Unfortunately I wasn't there for the photo, but the gaijin who were include my parents, Judy Speares from near Hakodate, my sister Mary (also from Hakodate), two German girls, an English girl, and a fellow from Hong Kong via Cornell University.
Campers and staff enjoy classes . . .
. . . meals . . .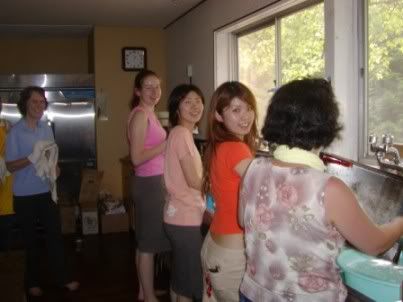 . . . and chores together in a casual and relaxed environment. As a young feller, English camp was where the OMF aunties taught me the basics of civilization such as "Don't take more than two cookies at tea time" and "Don't beat up your best friend for publically pointing out that your fly is open." Back in the day these English seminars were serious affairs attended by professionals and English teachers, but with the advent of state sponsored English programs it has evolved into a family style retreat for the casually international. Many find it a peaceful and compassionate retreat from the unrelenting humdrum of their heavily controlled lives.