It is in the nature of JETs, as it is in the nature of most people, to complain about required events, especially conferences and seminars. I have no complaints about JET conferences. The opportunity to come together with other JETs, both new and veteran, is in itself sufficient justification for holding such conferences. And in the case of the Aomori JET orientation I feel that the information sessions and workshops were helpful to some degree in disseminating information and to a very large degree in boosting confidence levels in the newbies. I still have to admit, though, that it was the "after-hours" activities that really made my week in Aomori City. First, I became the enthusiastic owner of a very expensive, but VERY COOL cell-phone.
Behold the Vodafone 602SH!
(yes, you need to click on the link). This beauty transforms into a 2.0 Megapixel digital camera perfect for taking pictures destined for web-pages. Expect a deluge of local Kazamaura photography in future posts. Second, I had an opportunity to meet and spend time with some of my fellow Christian Aomori JETs at Korona World (=shopping plaza complete with exotic hot-spring spa).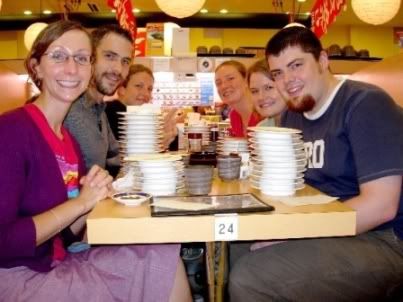 Here I experienced for the first time the crass pleasures of a kaiten-sushi bar, and I single-handedly vanquished fourteen ¥100 plates. Gluttony aside (I repent, and will only eat ten plates next time!), I'm really looking forward to this year's services and Bible studies at
Itayanagi chapel
. Mr. Kawashima, my supervisor, made the six-hour round trip to pick me up Friday evening, and once again invited me to eat dinner at his place.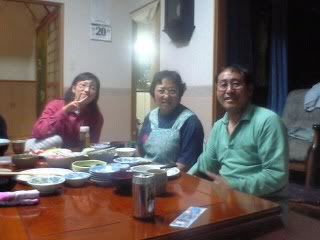 This is the Kawashima family (minus their son whom I've never met). As I have stated before, they are good to me. Last time I ate at the Kawashima's the Canadian women's Olympic softball team was kicking some Japanese butt, which made me feel bad about eating their food. So I was a little relieved this time when they turned the TV on and the Canadian men's baseball team was losing to Japan 9-0. Not that I'm not patriotic, but there's diplomacy to consider when you're eating somebody else's food.