So I'm visiting my folks at the Aomori Christian Centre during this summer's
Aomori Living English Camp
. And my mom needs more flour for the lunch biscuits. Yes, mom, I can drive to the コンビニ。I knew I was in trouble when she said "this map is not to scale, and it does not include all the roads." Okay, I was a platoon commander. I can handle that. Then I walk out to the K-truck.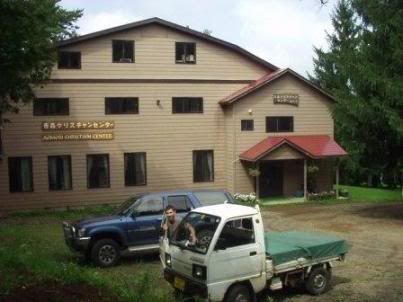 Powerful, sleek, 500 cc (0.5 litre) engine. Oh yeah, left stick shift. No problem. It's not my first time. Ten minutes down the road: hey, wasn't I discussing with my supervisor yesterday the fact that I forgot to bring my international drivers' license to Nebuta? That's pretty serious isn't it? Wait, where's my Canadian license?! My passport!!! I'm a gaijin driving a crappy K-truck in Japan with no license, no passport, no ID. Didn't they say at JET orientation that we could be deported for this sort of thing?! Being a gaijin was so much simpler when I was underage. Needless to say I sweat almost as much on this little shopping excursion as I did during the Nebuta hop the night before.
In other news, on the way down to Nebuta 川島 (Kawashima) 課長 、my supervisor, and I stopped by the motor vehicle department to test the waters on getting me a Japanese license. No one was manning the front desks of the international section, so we had to wander into the office itself. "No, we don't have an appointment." After being ignored a bit we were finally approached by a bouncy and unhelpful part-time girl. No, they didn't have any pamphlets outlining the steps necessary for me to get a Japanese license. But if we had a piece of paper we could write down what she said. Then the full-time lady showed up with a "I hope you're a fast writer" air about her, and you need to have 1) an official translation of your home country license made by JAF (Japanese Automobile Federation) or your home country's consular service, 2) your alien registration card, and 3) a valid international drivers' license. Then, Mr. Kawashima let drop that he was a divisional head in the Kazamaura board of education, and suddenly we were sitting down and filling out forms. She even explained steps to us that she had previously omitted, such as bringing two passport photos, and handed us a couple of more forms so that we could get a head start on them while waiting for my alien registration to come through. As it is, I will be able to get my Japanese license on the spot next time I show up . . . if I'm with my supervisor. Had I not had a mentor of Mr. Kawashima's standing, I would have ended up making several six-hour round trips to Aomori while the wankers in the motor vehicle office fed the requirements to me one piece at a time. It's not just gaijin who suffer at the hands of Japanese bureaucracy. Ordinary and poor Japanese people get it just as bad. BURN IT DOWN! BURN THE SYSTEM TO THE GROUND!! DEATH TO OLIGARCHY AND THUGOCRACY!!!