This past weekend I journeyed to the town of Tobetsu near Sapporo to meet my future in-laws and to receive their blessings on the impending marriage of Yuko Takahashi and myself in June. According to the Japanese Ministry of Health, Labour, and Welfare, by the year 2000 there were 300,000 marriages between Japanese and non-Japanese persons registered in Japan, and it is not uncommon for JET participants to join these ranks during their brief sojourns in the land. It is therefore circumspect to inquire closely into the legal machinations governing these international unions within Japanese society. The prospective spouse of a Japanese national may be surprised, upon browsing through respective Japanese embassy web-sites, to discover that visas for spouses of Japanese nationals are generally covered by one unexciting paragraph informing the reader that such a spouse must renew his or her spousal visa every one to three years depending on the duration of the marriage and the whim of the Ministry bureaucrats. More in depth research will lead to the discovery of an even more sinister instrument of discrimination:
Japan's Family Registry System
, governed by
the Residents Registration Law
. While it is a popular conception among Western ex-pats in Japan that it is easier for gaijin guys to "score" than it is for gaijin girls, the truth is that 80% of international marriages here are between Japanese men and non-Japanese women (primarily Korean, Filipina—yes, that's how you spell it—and other Southeast Asian nationalities). Consequently, discrimination against gaijin spouses in Japan is also a grave issue of discrimination against women. There are a number of organizations and mutual support groups in Japan seeking to empower gaijin spouses, two of them being
ISSHO
and
UMJ (United for a Multicultural Japan).
My own journey with Yuko began nine years ago at the Word of Life Bible Institute in the Adirondack Mountains where we basically had very little to do with each other.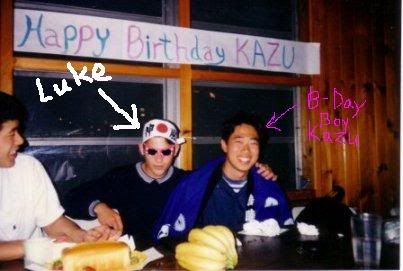 We would attend the same birthday parties . . .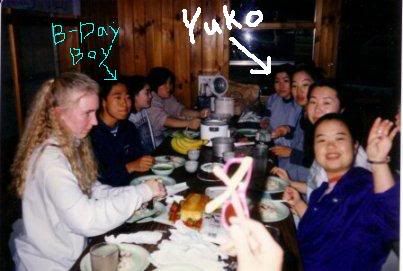 . . . but seldom made it into the same photographs. We were casually in touch on and off for a number of years (mostly off)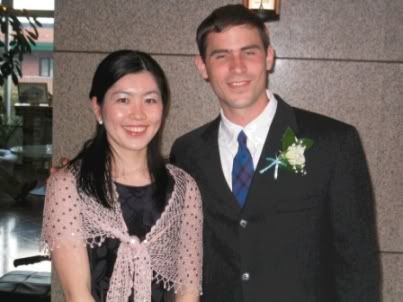 . . . until we met again in November, 2003 at my sister's wedding in Hokkaido. I will state for the record once more that I am not drunk in this photograph—just very jetlagged. A few days after I returned to Canada we decided via e-mail
to get married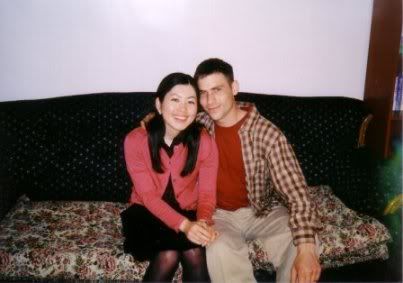 . . . so we were on very friendly terms when she visited me in Toronto in May. As mentioned above, this past weekend I made the journey across the Straits of Tsugaru to Hokkaido where I proclaimed to the Takahashi's my love for their daughter and received their blessing to become their gaijin son-in-law.