Have you ever wondered what happens to those village JETs you meet at orientation and never hear from again? This primitive flick is just holding the fort until such time as I get my school action footage online. "Feral" defines a wild or untamed creature that has diverged from its domestic roots. Other famous "ferals" include: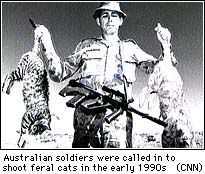 Australia's Feral Cats
Numerous reported cases of
feral humans
(this one is actually a somber subject, and although I am including it in the current context, it is by no means to be made light of)

And
Will Ferrell
(a variant spelling to be sure, but definitely related).
Incidentally, Kazamaura's great shortcoming is its internet connection speed. I decided to try out some of Jamie's
avoidinglife techniques for acquiring movies
from the internet and I started downloading
Battle Royale
on Sunday night. About nineteen hours later I'm sitting at 12% complete. Estimated time left? 130 hours 29 minutes 56 seconds and counting. That's a little more time than it took me to travel on Greyhound and SML buses from Whitehorse, Yukon to St. Stephens, New Brunswick back in the year 2000. I'm hoping that it will be ready to watch sometime next weekend.