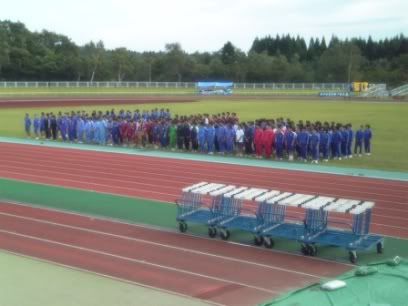 The Marshalling of the Schools: The opening ceremony was a colourful affair with the usual martial overtones. Every junior high school has its own unique track suit uniform, and I'm just glad I belong to a school that chose navy instead of pink.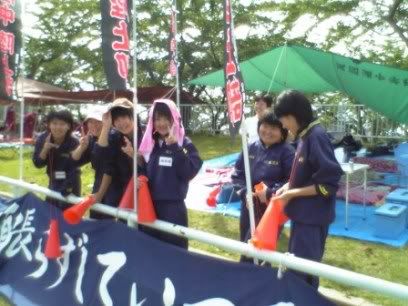 World Famous J-Style Cheerleaders: The third year students don't compete in the fall sports competition because they officially retire from club activities during the summer in order to free them up for exam studies. So they just cheer and help out.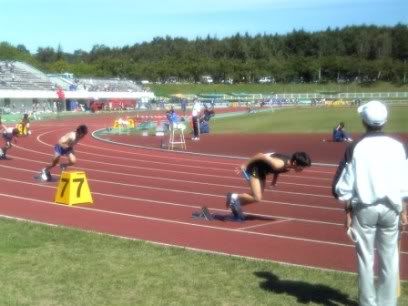 The Kazama(ura) boys did all right in the 4 by 100m relay. Our boy is on the left.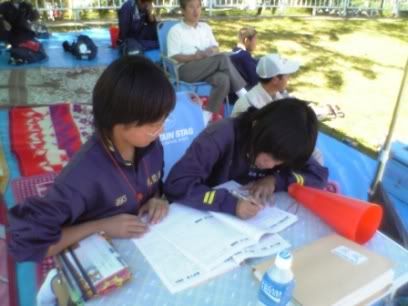 The third year girls meticulously fill in all the times and distances of all the competitors. The school principle is relaxing in an arm chair behind them. He was obligated to show his support for the track and field team by showing up on this fine Saturday morning.
More cheering. Notice that the school banners resemble military flags of the samurai era.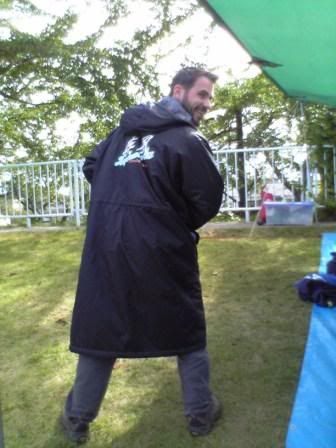 I Model one of the Kazamaura Junior High School Black Warm-up Trench Coats.

A Japanese Teacher of Engrish (JTE) sports an educational T-shirt illustrating the use of the definite article. If you haven't, yet, you should check out other cool
Engrish products
.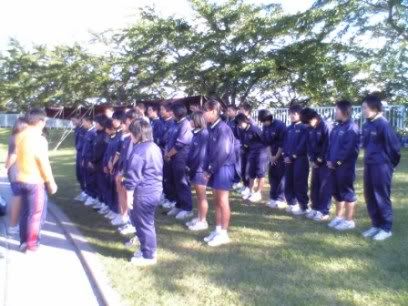 Form up troops! I want three ranks . . . move now!
All in all our track and field team acquitted themselves very well considering we are such a small school. We'll be sending ten athletes to the prefectural meet. Our baseball team was shutout ten-nothing, and our girls' volley ball team, after winning one game, was spectacularly defeated by the champions in just two sets, 25-0 and 25-4. If you viewed last weeks video of the week "Let's Sports and Stuff" perhaps you will understand why.