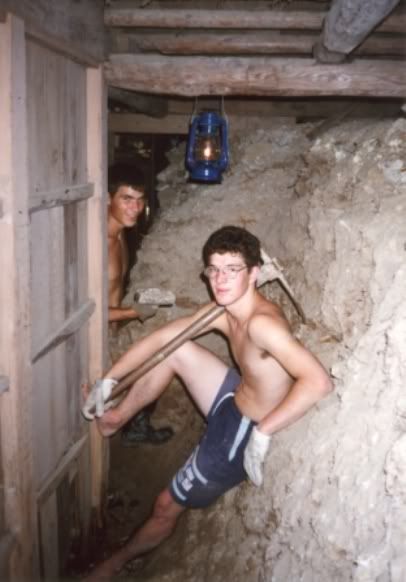 Early Years Spent in the Sulphur Mines
Matthew Lindheim, fellow
Missionary Kid
featured in previous posts, sent me this long forgotten photo of one of our money making rackets. We were desperate in those days, so we jumped at the chance to earn some extra yen by digging out some breathing space for the wooden structure of one of the hillside cabins at the
Takayama Beach Company
. This photo was taken around midnight. In other news, I signed my re-contracting form today, although technically it's not due until February. At the same time, my supervisor showed me the blueprint of the new "singles" residence being built for me (and future JETs) by the village. It has a covered parking space and seems to be efficiently designed, but it is two rooms smaller than my current abode and inconveniently located in a crowded neighbourhood down by the river. Moreover, my supervisor has taken to thinking out loud about all the exciting possibilities in setting my new rent. I was initially shocked last month when he began muttering about raising my rent to 15,000 yen from 12,000 yen—"because it's a new house." Today he had the blue prints out on his desk again and he started throwing around the figures of 20,000 and 30,000 yen. Granted, in Toronto I earned less than half of what I make now and paid much more than 30,000 yen worth of Canadian dollars per month as my share of a three room apartment shared with two others. Still, I'm a JET now, and any dilution of this paradise can only be perceived by me as a belligerent encroachment on my happiness. I should also note that Yuko, in response to my previous post, reminded me that she herself uses spray deodorant to positive effect.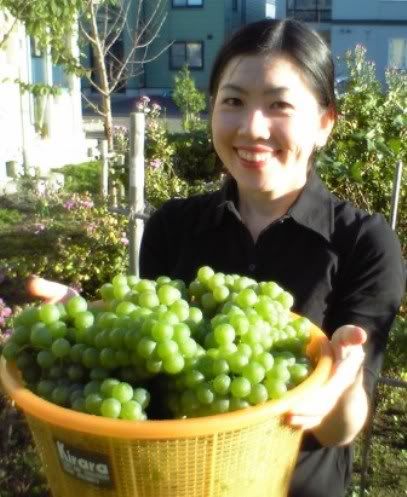 Harvest Time at the Takahashi's
True, there is no denying that Yuko smells very good at all times, even when engaged in agrarian labour. But as one can discern from this photo,
my fiancée is a woman
. I still maintain that there is no deodorant on the Japanese market worthy of a male armpit. Having said that . . .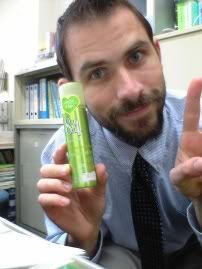 Yesterday I went as far as Mutsu City forty minutes drive away in search of deodorant without making a purchase. Today I surrendered my manhood and bought The New 8×4 Powder Spray at a local house-front store. It is "Heart Softening Essence of Green"—「心をなごむ緑の香り」(or so the little heart shaped sticker tells me). The man at the store says that the powder content lubricates the armpits and prevents rashes while the fluid ingredients are doing their job of keeping my perspiration and body odour at bay. He also swore a solemn oath to me that it is considered a uni-sex product.