Santa Land
may be in Iwasaki Village, but J-Santa's little workshop is right here in Kazamaura.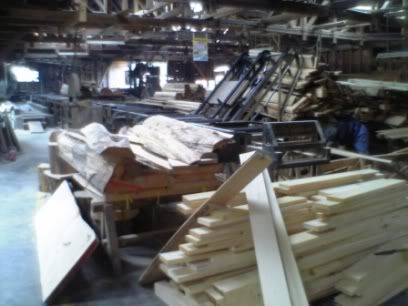 At first glance Muraguchi Industries may look like any other lumber mill,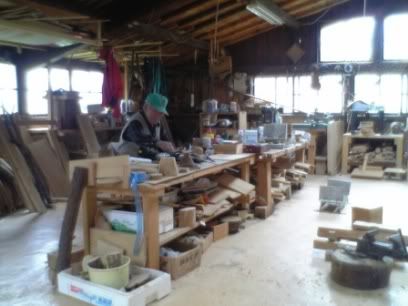 . . . but another quick glance to the left reveals it's true function as Santa's secret lair in Japan. It turns out that during the year he shaves and disguises himself as an eighty-four-year-old Japanese man.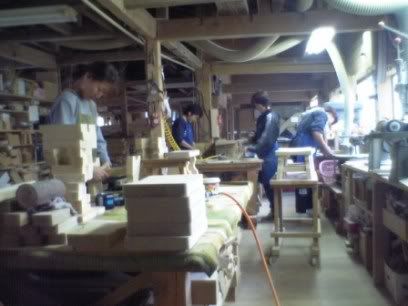 As children of the post-modern world I would expect the readers of this page to be aware that Santa's elves, like everything else in this world, are really social constructs of our patriarchal legacy. They have been constructed from the women folk of Kazamaura fortunate enough to be indentured servants to Santa rather than to the
squid racing
or 温泉 (
onsen
) industries.
Santa's manager, and the genius behind Muraguchi Industries, is Mr. Yotaro Muraguchi, creator of the "Yotaro in the Forest" collection. I consider this man and his outfit to be a Kazamaura village treasure transcending in value our famous Shimofuro (下風呂)
onsens
, our squid races, and even our abalone radar shield. Apart from Santa, all his employees (elves) are women because "men are generally clumsy and inattentive to detail."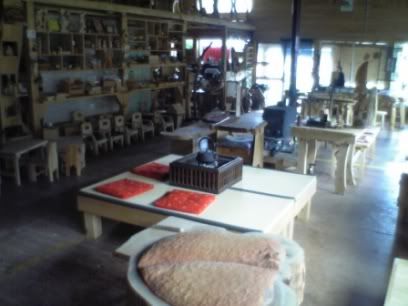 "Yotaro in the Forest's" display room is impressive to say the least.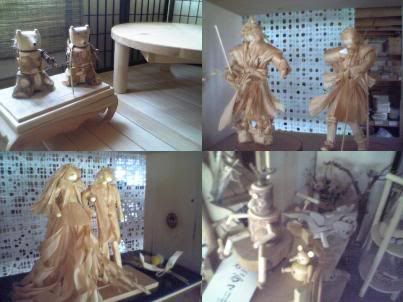 His toys, decorative figures and crafts,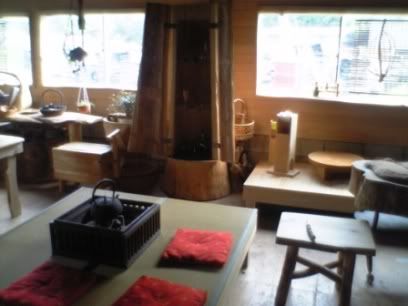 . . . and his furniture are all marketed in expensive specialty stores in Tokyo and other large cities.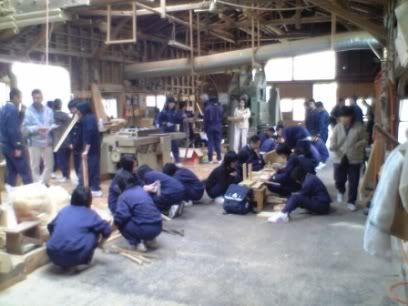 Fortunately, the powers that be at Kazamaura Junior High School have been wise enough to tap into all that Mr. Muraguchi has to offer, and so several times annually Mr. Muraguchi graciously hosts all the third year students in one of the many nooks in his mill.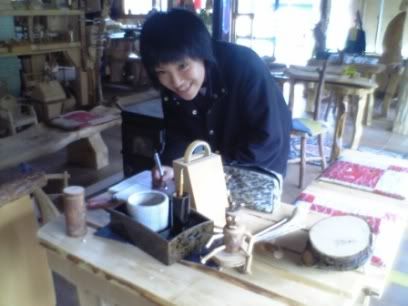 After finding inspiration in the display room . . .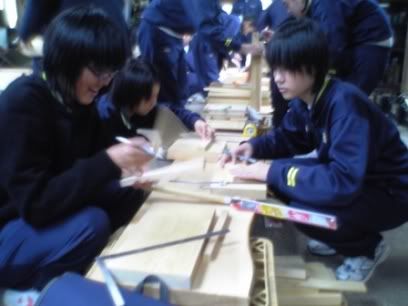 . . . they select whatever wood they need to make whatever they want to make. In deference to Mr. Muraguchi's love of women, I will for the most part only show photos of girl students in this post . . .

. . . except for this one which I call "Boy with Saw."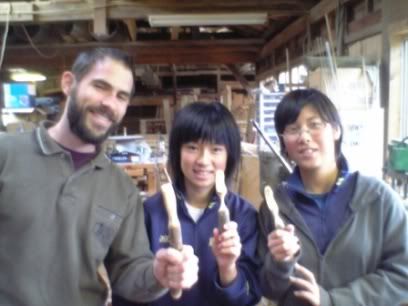 Here I am showing off my left handed wooden spoon (alas, I am right handed) which I made as a warm up for my real project—whatever that's going to be. The girls are planning to make knives and forks, too, for complete sets. There is something tremendously satisfying about creating wooden artefacts with one's own hands. I remember that I derived great pleasure while growing up from creating bows and arrows, wooden mounts shaped like rifles for my slingshots, and other semi-lethal weapons. As to Mr. Muraguchi, he is a very sociable craftsman, and when he isn't surrounding himself with junior high girls (who tend to congregate around him) or working in his mill, he is hosting his Sunday Wooden Craft Club open to the public on Saturdays and Sundays (except on the third weekend of each month). It only costs 1,000 yen per year plus the cost of materials, and I would highly recommend it to anyone interested in wood working or hanging out evenings with a great local artist over a few beers. Check out his website
here
(I've also permanently added it to my sidebar). And yes, dad, I told him I'd bring you around next time you visit Kazamaura.