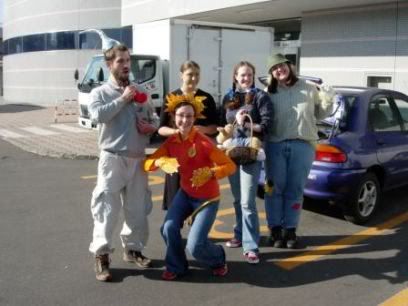 Saturday morning, the Toadsters (a grotesque compromise between "Roadsters" and "Toady" as in Mr. Toad in
The Wind in the Willows
) pose briefly before embarking on a journey of discovery and adventure. Cast includes: Abby as Dorothy, my sister Sarah as the Wicked Witch of the West, the other Sarah as the Cowardly Lion, Trish as the Scarecrow, and me as the Tin Man. I got up at five in the morning in order to drive down to Aomori City in time for the 9
o'clock
start. Then, what do you know, all the big points turned out to be in my own neck of the woods, so the Toadsters all piled into Trish's car and drove all the way back to where I came from. Curses.
Team Leader "Shimofuro"
a.k.a. Shmo leads the way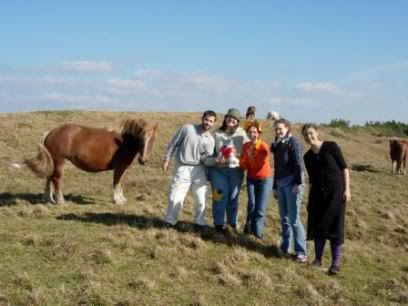 Seven Hundred and Fifty Points for Molesting the Wild Horses of Shiriya Known as Kandachime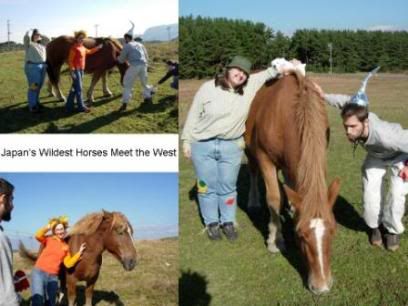 These wild horses are tamer and more tolerant of human idiocy than most of their fully domesticated brethren.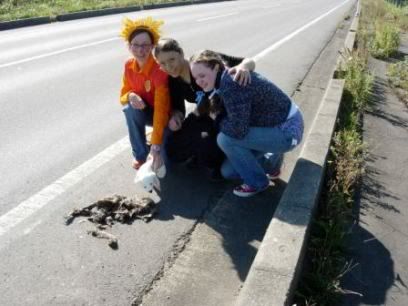 Bonus Points for Road Kill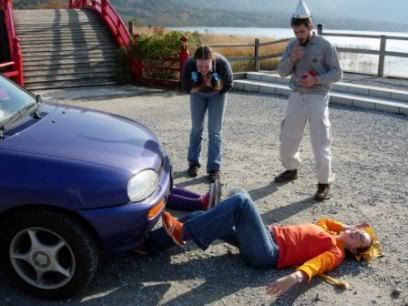 The Wicked Witch of the West and the Cowardly Lion are dispatched to the netherworld conveniently close to
Osore-zan's bridge to the afterlife
. More road kill bonus points for everyone!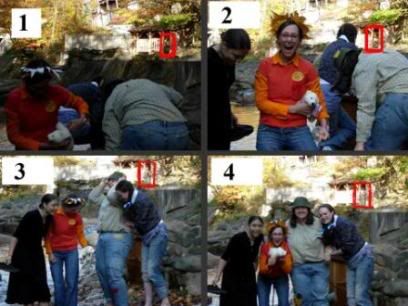 The Toadsters cheat a little on the "in
the ORIGINAL Yagen Onsen
" (a.k.a. "The Water Sprite's Couple Spa") clause. To keep clothes on and save time and embarrassment we opt to stand barefoot in the boiling runoff instead. Note inset in background.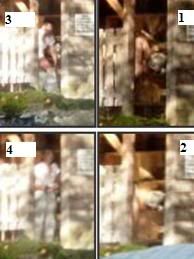 Inset: man getting dressed—proof of this onsen's open concept.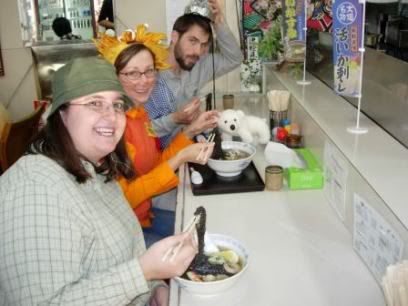 Late Lunch—300 points for eating squid ink
ramen
in Ohata. Black noodles are cool, and they really pile on the sea food: ¥800 (about eight bucks,
give
for Canadians
or take
for Americans).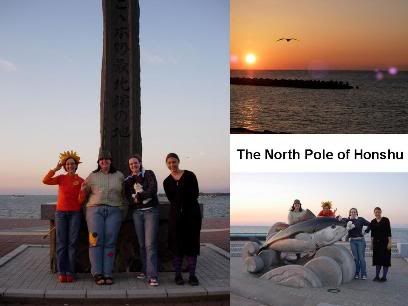 Top points for Reaching the North Pole of Honshu in Oma
The Toadsters kicked butt and won by a mile. We choose not to dwell on the fact that only three teams competed.