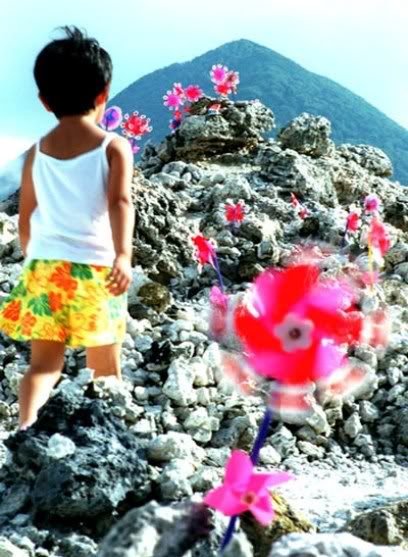 Click on the Photo for a Short Paragraph on Osore-zan
I was a little disappointed during the scavenger hunt that I didn't have time to immerse myself in the water's of the Water Sprite's Couple Spa (夫婦かっぱの湯—
Fufu Kappa no Yu
), so I decided to hit it on the way home. It was quite late—nearly midnight—by the time I reached Mutsu, and I decided to take Route 4 past
Osore-zan
as opposed to the shorter Ohata route. I have seen
osore-zan
translated variously as "Fear Mountain" or "Mount Dread," but I prefer to translate it as "Terror Mountain." The place has never disturbed me in the day time, but on this occasion when the stench of sulphur swept over me and I saw the moonlit mists rising off of Lake Usoriyama I was overcome by the fact that I was terribly, terribly alone with whatever oppressive spirits violate these regions and the strength left my groin. I found myself turning up the volume of the Gospel According to John that I was listening to on tape and muttering"Jesus Christ is King of
Yagen
also" over and over. My knees shook for the next ten minutes as I sped away. I didn't encounter another vehicle or person for the entire 30 km of that mountain road. By the time I reached the
Kappa's
hot spring, though, I was quite myself again.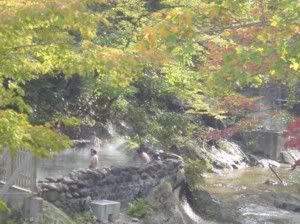 It is a small stone pool of volcanically heated water that is clearly visible from the nearby bridge. It is free and open to both sexes (thus the word "couple" in the official name). There is a little wooden stairway leading down to it, and a small wooden stand with a roof where one can undress and store one's clothes.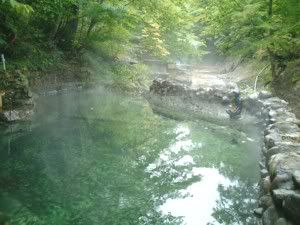 The statue is of the
kappa
("water sprite") from which this pool derives its name. A diligent reader of Harry Potter might recall that
kappas
were covered in one of Hogwarts' fourth year classes.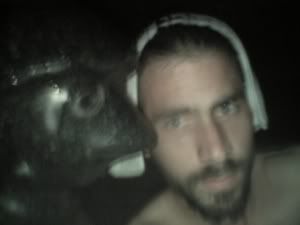 Here I am with the
kappa
. Late as it was, it being a Saturday night there were a couple of salary-men out having a soak before going back to their van to get plastered. Other than that I had the place to myself.