Rather than attempt to deliver full narratives on the past week I will simply post a photo story with minimal details.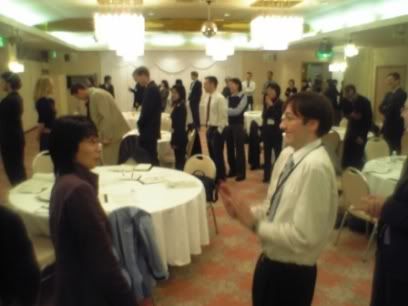 JET ALTs (Japan Exchange and Teaching Programme Assistant Language Teachers) and JTEs (Japanese Teachers of English) Enjoy Demo Games at the Aomori Prefecture ALT Mid-year Seminar in Hachinohe
The Males of the Specie Demonstrate their Powers of Non-oral Communication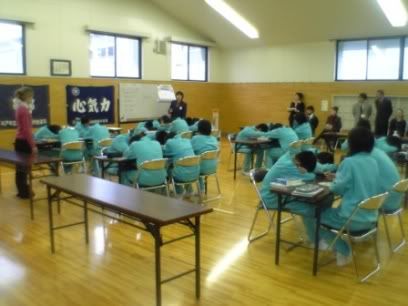 I Wish My Junior High Classes Were This Obedient; but Then, They've Never Been under the Pressure of Being Observed by 60 JETs and JTEs (This is a Game. They are Supposed to Have Their Heads Down.)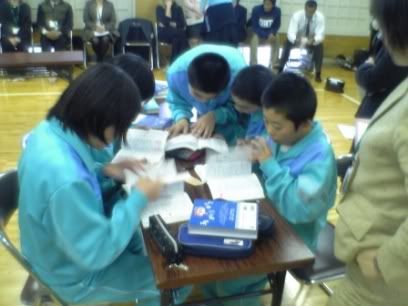 Something I've never seen before . . . .
This past weekend I made one of my monthly visits to Sapporo to see my fiancée. Yuko's parents weren't home, but my mother happened to be in town for a Japanese language test in the language school run by our mission, so she joined us for the night.
Sunday, we all went to Lighthouse Church where my sister Anna (pictured above), my brother-in-law, and Yuko are all members.
After church, Yuko and I celebrated one year of being engaged with a five course meal at a twenty-second floor restaurant. The beautiful view of Sapporo with it's backdrop of mountains was obscured by the blinding afternoon sun but naturally I was content with the view across the table from me.
We followed up dinner with a walk to the old capital building of Hokkaido . . .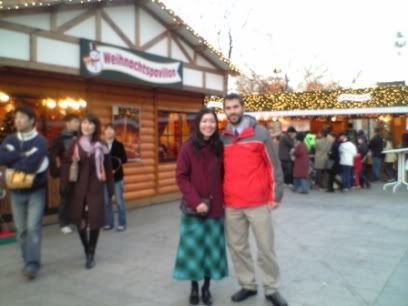 . . . and the Munich Christmas Market. Apparently Munich, Milwaukee, and Sapporo are all sister cities by virtue of a shared love of brewing beer. I'm curious as to whether the foreign staff in the booths were genuine Germans or just random Sapporo gaijin.
Since my mother left on Sunday leaving Yuko and me alone at her parents' house, I spent Sunday and Monday night three minutes walk away at Futomi Spa (ふとみ銘泉) for the sake of social propriety and to publicly affirm our mutual commitment to pre-marital chastity. Hardly a hardship.
Yuko had work on Monday, so I spent the day in Sapporo proper with Anna and Jun. I was a little confused in transit, but I asked a station employee about a trouble. More Sapporo photos to follow when I take my Japanese Language Proficiency Test there the weekend after next.