Full coverage of the unfolding tragedy of my forced move will continue until the sorrow abates. I have mentioned before that my village's board of education had two singles' residences built recently—one for a spinster gym teacher, and one for the village ALT. This disruption of my life was set in motion long before CLAIR assigned me to Kazamaura. The idea was that most ALTs are single and that they don't need three-bedroom houses, and that the National Language (国語) teacher who has two young children did. I do not begrudge a young family a nice large home across the street from their father's workplace—I would gladly make sacrifices for such a cause. But the other day this family turned down my big house on the hill for personal reasons. Nevertheless, I will still be moved. Having one of the new residences vacant would cause more loss of face for the board of education than having the older, bigger house vacant. So we must begin a new volume in the story of my life in Kazamaura: "Little House in the Ghetto." To show what I mean, I will post some photos of my neighbourhood when I return from my weekend visit to Yuko's.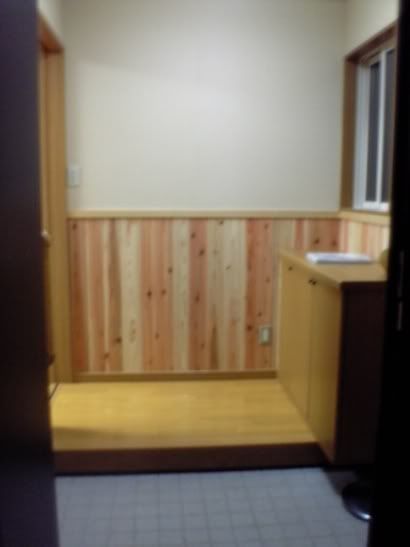 The view of my genkan through the front door.
Enter through the front door and look left to see part of the living room and the bedroom beyond.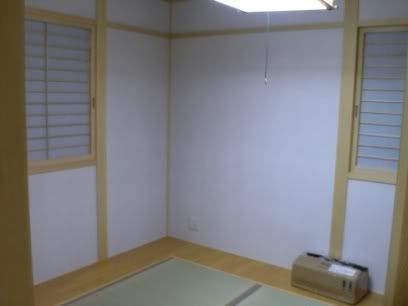 Walk towards the bedroom door and look in.
Walk into the corner and look back towards the door and the bedroom closet.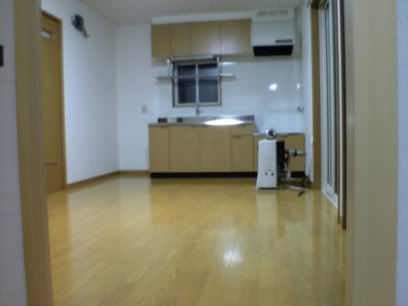 Look through the bedroom door back into the living room/kitchen.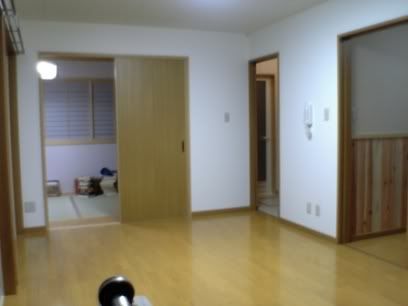 Walk into the far right corner of the kitchen and look back towards the living room, bedroom door, and bathroom door.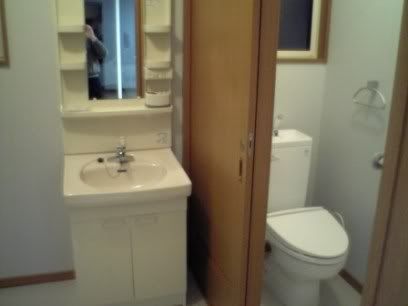 Walk to the bathroom door and look in at the toilet and the sink in the laundry room.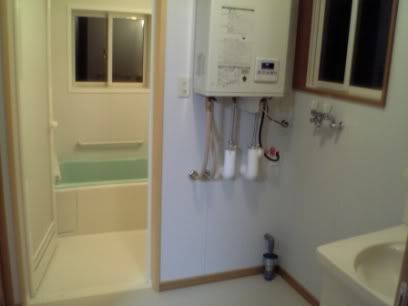 Walk into the bathroom and look back at the laundry room and the bath/shower unit beyond. The ultra-modern water heating unit to the right talks to me in a Japanese woman's voice and tells me which buttons to push.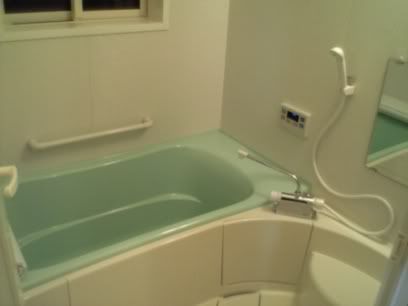 A closer look at the bath/shower unit.
The sad thing is, I know that many local people covet this house because it is brand new. Meanwhile, I would be perfectly happy back in my older but still very nice and much, much bigger house which is right across the street from the school instead of this little tiny house down by the (dirty) river that is at least ten minutes walking distance from the school.