It being a rainy winter Saturday, I declined the temptations of the wild mountain trails and opted instead to visit key locations in Shimokita's most urban area. It is all too easy to arrive in a community a foreigner and then leave a few years later none the wiser of what that community had to offer all along. So I dedicated today to visiting some key private establishments I had become aware of over the past two weeks, and to reviewing them in this blog as a reference for other expatriates in the area.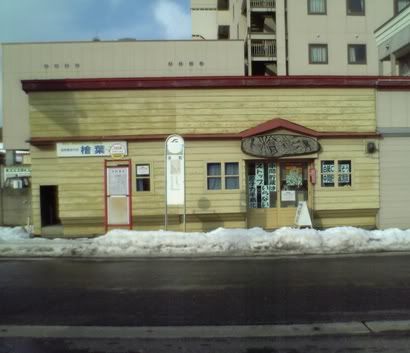 ひば自然食品の店:The Hiba Tree Natural Foods Store
The sign says稲葉 (
inaba
). It is a tiny, tiny shop, but it is perhaps the only natural foods store available for those seeking organic or vegan-friendly foods. Its main customer base is made up of people following the
macrobiotic diet
so the shop carries a large number of brown rice [玄米—
genmai
) products. My purchase of the day was a 1kg bag of organic brown rice. The regular price would have been ¥560 but apparently everything is 10% off on the last Saturday of each month. The entire building is constructed of Aomori hiba wood, and sure enough the owner is acquainted with Mr. Muraguchi of
ワイドの木 [

wide no ki

]
(read about
Mr. Muraguchi
and his
house of hiba
).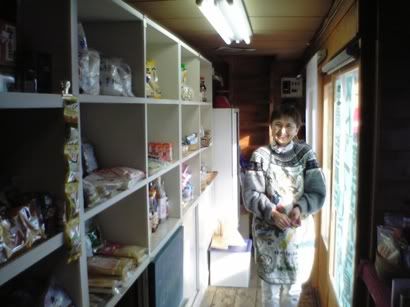 Ms. Midori Inaba [稲葉みどり—"

inaba

" means "rice leaf" and "

midori

" means "green"] Who Runs the Store
Ms. Inaba is a singular woman whom I first saw at the meeting I attended last Sunday for raising awareness of the undesirability of the planned "interim" (read "emergency") nuclear waste storage facilities in Mutsu City. I will devote a future article to this important subject. I have heard second hand that Ms. Inaba moved to Mutsu a number of years ago for the express purpose of raising awareness of the dangers Shimokita faces as the future home of a concentrated number of nuclear facilities—some of them very poorly thought out. Although I spoke with her only in Japanese I suspect that her English is very good, and she offers her services as a teacher of Japanese to non-native speakers of the language. I will definitely be frequenting her shop in the future, and although it is very small I would strongly encourage anyone in the area sympathetic to her cause to do so as well.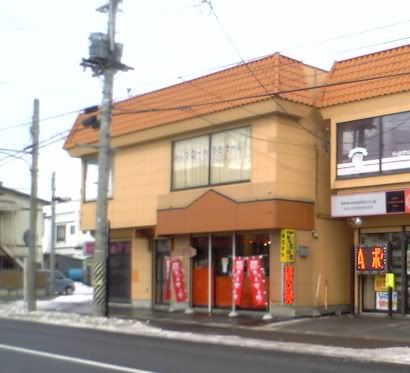 ちゃ蘭ぽ蘭 [

charan poran

]: Mutsu's Provider of Korean Food
This is the establishment I spoke of in
last week's post on things Korean
. It is primarily a Korean restaurant, but also has a shelf of Korean food products for sale. It seems to already have gained popularity as a meeting place for social groups since it's opening in October, and for good reason. It provides a pleasant and comfortable environment tenderly overseen by the Korean woman who runs it. When I dropped in to take a look it was much too early for me to feel like supper, but as I chatted with her she poured me a cup of coffee and gave me a little Korean dessert on the house. To my delight, I was able to order a 3kg container of
kochujang
for my home cooking, and I will probably be dining out at
Charan Poran
quite often in the future.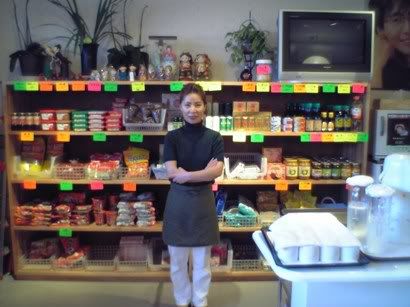 Mrs. Keiran Nakanishi (formerly Kim): 中西(金)慶蘭 in Front of Her Korean Food Shelf
Mrs. Nakanishi came to Japan about twelve years ago and has lived in Mutsu since about eight years ago. She is a member of the Emanuel Church in town, but she knows most of the people at the church I attend as well. She has a Japanese husband. Mrs. Nakanishi has a very friendly and kind persona (she would probably just
give
everything to her customers if it were economically feasible) and I am looking forward to getting to know her better in the future.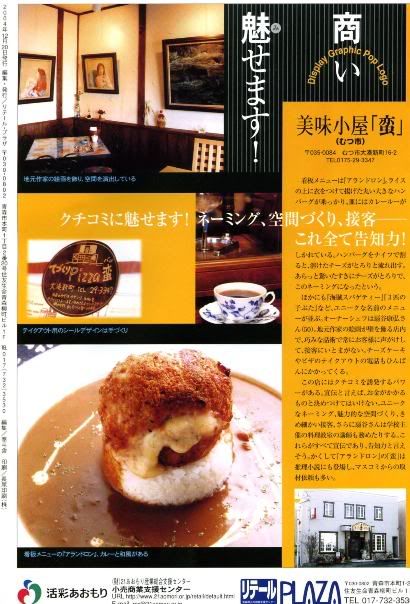 蛮 [

Ban

]: a Great Place for Coffee, Pizza, or Dessert (Click on the Brochure for a Closer Look)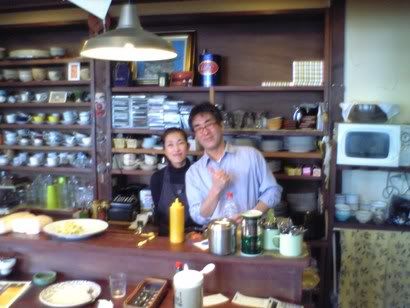 The Owners, Who Also Know Mr. Muraguchi, Lending Weight to a Theory I Am Developing That Mr. Muraguchi Is the Axis around which All of Shimokita's Cool People Revolve
One of the ladies at my church introduced me to this place last week. The first time I went I had clam curry, and today I had the seafood pizza. The house special is アランドロン. I have no idea what to call it in English so I will simply try to Romanize it:
arandoron
. This little café and its
arandoron
feature in the novel 下北薬研温泉殺人事件:
The Shimokita Yagen Hot Spring Spa Murder Mystery
.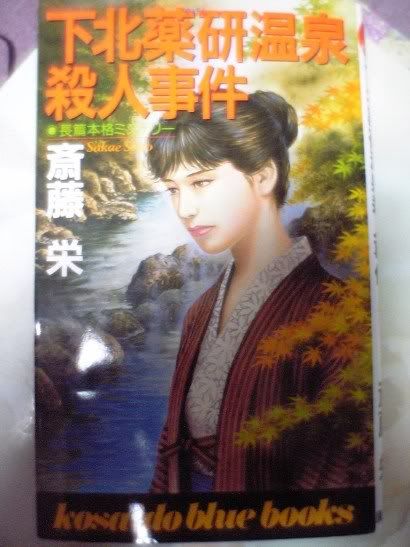 I picked it up at the bookstore today and will use it to practice my Japanese reading skills. On the way home I went to none other than the Yagen Hot Springs.
Thumper, Lonely in the Yagen Mountains' Winter Twilight
The Free Access Outdoor Bath, All to Myself!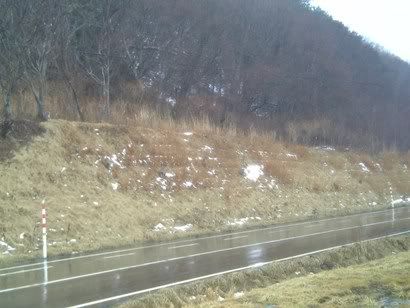 How Many Monkeys Can You See? Click on the Photo for a Close Up and the Answer
The day my supervisor drove me to Kazamaura from the airport for the first time I was
welcomed by monkeys sitting on the side of the road
while going over the mountain pass. I hadn't seen any since then, so I was quite pleased to discover a whole troop on the side of the highway as I drove to Mutsu this morning.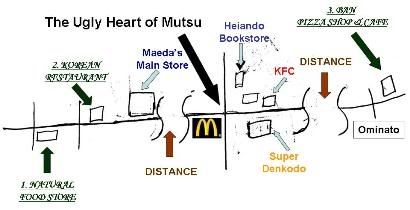 Click on Map for Enlargement