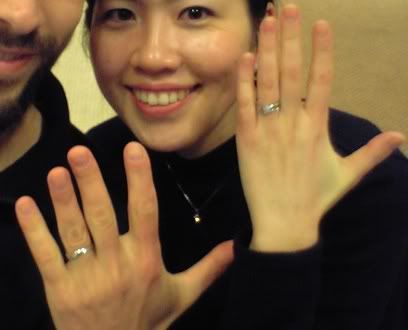 The Mistress of the Rings: The Why and Wherefore, with a Little Bit of "How"(Trying On the Rings at the Shop)
I am often asked how it is possible for Yuko and me to be so confident of our future together when we were barely more than acquaintances for our first eight years and then suddenly, by email, engaged to be married after a brief and uneventful encounter (the first in four years) at my sister's wedding in Hakodate, Japan. I have always been at a loss as to how to reply, not out of doubt or confusion, but out of timidity. However, I have been reading a remarkable book lately entitled
"A Return to Modesty,"
and I am ready to come out of the closet. Yuko and I will overcome because she believes in modesty and I believe in male honour. To be sure, I claim this only in the context of God's gracious care, but I do claim it. We both believe, literally, in a physical as well as in a spiritual sense, that we both belong to a man called Jesus Christ who we believe (for real) to be the once and future King of the universe by right of creation. And since we both believe that we belong to Him we believe in chastity, constancy, and covenant loyalty, even when it costs us a great deal and means putting other people ahead of ourselves. This shared understanding is the source of the trust we have in each other to journey towards our golden anniversary with equal fervour and tenacity regardless of the nasty surprises, disappointments and inconveniences that are bound to sideswipe us at one time or another. Before you dismiss that book I just mentioned because you don't believe in that "Jesus is King" crap, I should clarify that its author,
Wendy Shalit
, is Jewish, a feminist of the newer variety, was raised in a secular family, and doesn't talk about Jesus Christ in her book. I highly recommend it as a great New Years read. (For the deeply curious, Yuko and I keep certain of our records public, including
my e-mail proposal
of November 24, 2003,
Yuko's response
, and
the formal e-mail announcement
we made to mutual friends a few days later).
Christmas was the day that Yuko and I set aside some months ago as the time that I should present her with our engagement ring. I would like to have given it to her back in August
when I formally asked her parents for her hand in marriage
, but I was fresh broke from Canada at the time. For this special occasion, Yuko joined my family for Christmas dinner in Ajigasawa (though not in time for the traditional Elliot Christmas Eve midnight sushi feast).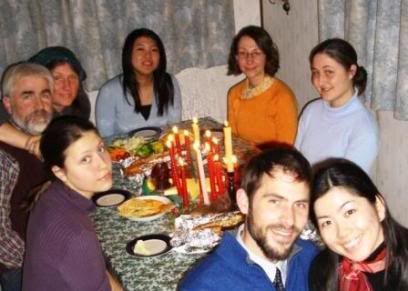 Unfortunately I have no pictures of the Ajigasawa waterfront location at which we performed our private ritual, but it was in the damp winter twilight amid melting snow on a little manmade peninsula next to the large footbridge. These conditions may sound less than romantic, but we had the entire park to ourselves and the lights of the castle-like hotel on the nearby cliff shone beautifully above us. Yuko had been adamant since the beginning that when the time came, my formal proposal be done in proper form with kneeling and a formal, memorized proposal speech—and so it was. One may wonder why we should stand on ceremony so, when we had already set the wedding date a year previous during the first week of our amorous correspondence, but it is ceremony that teaches the heart to honour and respect, and it is in ritual that that which is common is made holy. The
cheat sheet
which I carried crumpled in my pocket just in case and which, as an afterthought, I handed to Yuko later to keep as evidence is also on public record by mutual consent.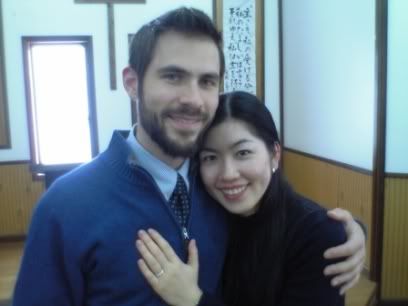 At Ajigasawa Chapel the Next Day
Japanese Prayer Group at Word of Life Bible Institute in Schroon Lake, New York c. 1995: Bonus Points for Finding Both Me and Yuko (Click on the photo for enlargement)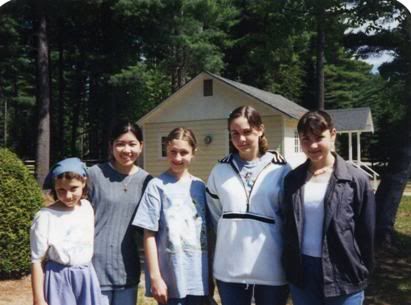 Yuko and My Sisters in June 1996 when She Took Care of my Visiting Family while I Was Busy at Pre-graduation Seminars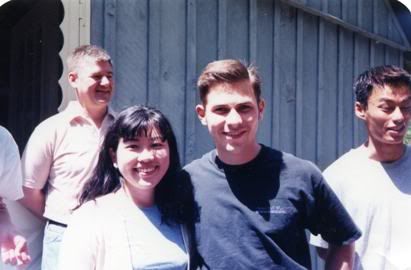 Summer of 1999, Schroon Lake, New York: The Last Time We Met Prior to my Sister's November, 2003 Wedding in Japan