You know a day at school is going to be superior when cleaning time is cancelled. I hate cleaning time—I always have ever since first grade. And today, not only was cleaning time cancelled, but the third year girls baked cake in home economics class.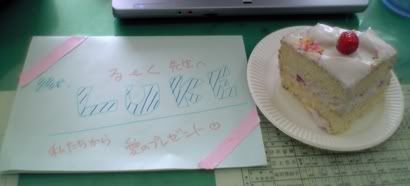 "To Luke-sensei-Mr. Luke-From All of Us, a Gift of Love." There Are Times When the Whole "Mr. Luke" Rubbish Doesn't Bother Me So Much
Come to think of it, I never did dislike these
third year girls
. They are exempt from my sentiments expressed in the previous post. In fact, in time I will probably grant indulgences to a good half of the student body as I am reminded little by little that the whole is much worse than the sum of all its parts.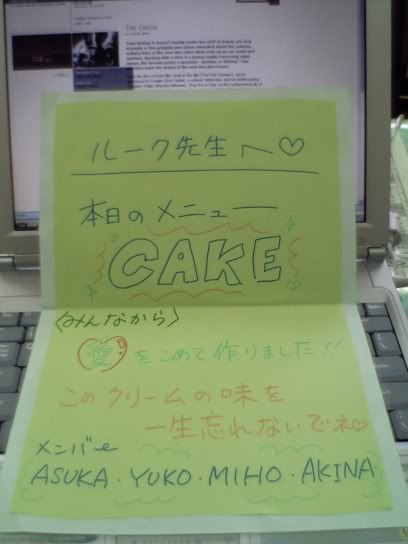 To Luke-sensei: Today's Menu—CAKE—(From Everyone) We Put Lots of Love into Making It. Please Never Ever Forget the Taste of This Cream. Members: Asuka, Yuko, Miho, Akina
For those of my readers who get sick easily from the sort of warm fuzzies reported above, I am providing a little school trivia to clear your palates.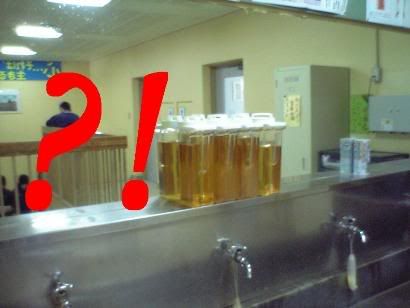 No, No . . . . This is Tea
Natural remedies still command respect in Japan, and our school provides tea as a gargling agent in place of pharmaceutical substitutes. Rather than relinquish huge sums to acquire expensive mouth washes to stem the tide of influenza, the school can simply have the house keeper make up enormous batches of relatively cheap tea before she goes out to help the janitor shovel the parking lot. In a related topic, it is said that
Chairman Mao never brushed his teeth
but opted instead to rinse his mouth out with tea every night before bed.
One can only imagine how revolting his green teeth and heinous breath were to the young virgin peasants he had rounded up from time to time.
Not to mention his venereal disease that he didn't think was a big deal. So my students aren't bad in comparison. They brush their teeth after every meal.