Unlike the junior high graduation party, the Ikokuma Elementary graduation party was held in the afternoon and included the students as well as the parents and staff. This led to a diminished alcohol intake (except in the case of certain privileged village elders) but not to a drop on the bizarre-o-meter.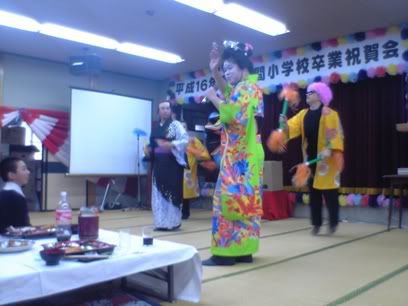 Here is the sixth grade teacher (that's a "Mr.") performing the obligatory
Matsu-ken Samba
. No party is complete without it in Japan this year. I believe that I have mentioned before that gratuitous cross-dressing is deeply ingrained here. In fact, there are photos buried in the Elliot albums that demonstrate my own early complicity in this national fetish. Perhaps my experience is limited, but during my ten years in North America it seemed to me that when people there cross dressed, they were fairly serious about it. Here, ordinary people do it just for kicks.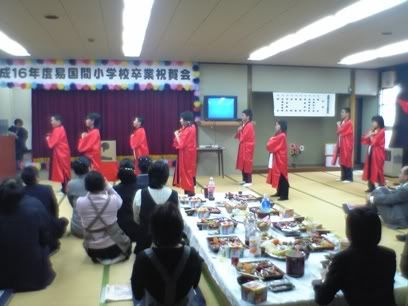 This is the graduating sixth grade class giving their parent-requested performance of the
Yosakoi-soran
, a combination of Shikoku's Yosakoi festival dance and Hokkaido fishermen's Soran music that is quite popular these days in elementary schools throughout Japan.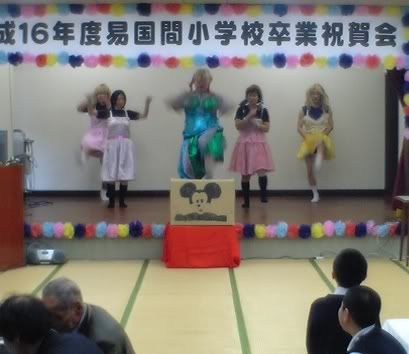 Who's the Daddy? (Apart from the Teacher, That Is)
Apparently one drag outfit wasn't enough for their teacher. He was as busy in the changing room as a bride at a Japanese wedding reception. His second performance was the alarming Japanese version of Toni Basil's "Mickey" which he gave in a costume that would have done nicely in a spoof on Turkish harems. His backup dancers (a.k.a. the students' mothers), of course, stuck with Lolita underwear worn Madonna style. Why I would feel obliged to insert the words "of course" into that last sentence is one of the seemingly impenetrable mysteries of this village I live in.
The party lasted an amazing four and a half hours, and at the end of it the young graduates bestowed gold medals upon the entire school staff, from the principal right down to the school housekeeper-one of the many touching moments in the course of the afternoon. This was a party I am glad I did not miss.