Heisei 16 refers to the sixteenth year of the Heisei (平成) reign, which is equivalent to the Year of Our Lord 2004. In Japan the graduating class is designated by the year in which they
began
their final year, rather than the year in which they completed it.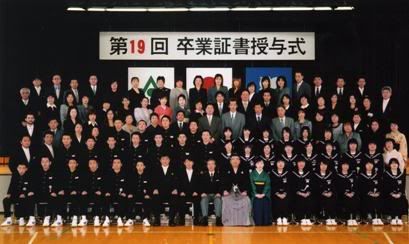 Where's Gaijin? (Click on the Image to Find the Answer to That and Other Questions in the Giant Version)
It has now been over a week since the third year junior high students have graduated, but as today is the official last day of school it seems an appropriate time to point out some interesting facts pertaining to the event. Obviously, fewer than half the people in the photo are graduating students. They can be identified by their school uniforms—the famous "sailor suits," in the case of the girls. The teachers and staff are the adults hovering on the periphery in
kimono
or black suits with white ties. Where's Gaijin? The homeroom teachers of the graduating class are seated front and centre, together with the principal and vice principal (the latter being known in Japan as the
kyoutou
: "head of teaching"). The principal is wearing a swallow tailed suit similar to the one worn by the Monopoly man. The rest of the adults are parents, and Kazamaura is uniquely blessed in that often the fathers also take an active role in their families' special moments. Most graduations I have observed have for the most part been attended only by mothers.
For young Japanese people, compulsory education ends at the age of fifteen with the completion of junior high school (the North American equivalent of grades 7~9). These kids have reached the end of their free ride—the end of the illusion of equality. Come April, they will go their separate ways to various high schools near and far where they will settle into the academic strata allotted to them in the hierarchy of schools by a combination of their academic achievement and their socio-economic status. That is probably why they cry at graduation.