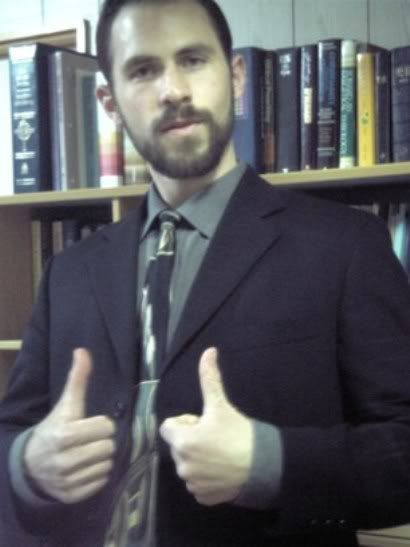 The Face that Says: "I'm Not Very Bright, but I'm Pretty Sure that I Was Just at a Great Party"
In Japan, in the field of education at least, the parties just never end from late March through the beginning of April. I believe that what I just came home from, though, may have been the last of the farewell parties. We have been saying farewell to the same five staff members for well over a week now, and tonight it was the PTA's turn to assemble itself in a room full of catered food and oceans of alcohol. Attendance was mandatory for junior high staff, but that was just as well since it proved to be my favourite
enkai
yet. There was no
karaoke
, the parents were boisterous without being too rowdy, and I was able to meet new people and have civil conversations all evening. I hope that some of these new acquaintances will in time become friends. It also crossed my mind . . . well, no, that's not true. A pleasantly inebriated single mother with a respectable command of English phrases such as "shut up!" and "that's great!" thrust it into my mind that an English club for adults would probably be very well received in Kazamaura. This seems like a reasonable assumption, since many parents in this village have shown a far greater interest in chatting with me in English than have their children in the junior high school. It's hard to say if the board of education would ever buy into the idea, but I think I will try to plant a seed of a notion when I get back from Sapporo next week.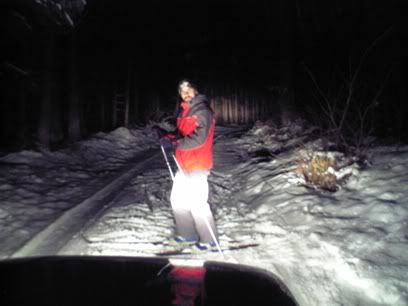 My Cell Phone Camera is not Equipped to Take Night Photos, so I Have Taken to Using Thumper's Headlights for Lighting
After the PTA party I took the opportunity afforded by last night's snowfall to finally go cross country skiing on the Ikokuma Forestry Road. Midnight under an almost full moon is a perfect time to ski through the snowy woods. Ever since I left the Yukon five years ago I have longed to recapture the magic of skiing cross country at night through the frozen forests of the deep North, and tonight I came closer than ever to doing so. Pale white, deep shadow, silver lined blue clouds and an unrelenting stillness . . . .