Standing, left to right:

My fiancée Yuko (who came down to visit my folks for the weekend) and my mother of BLUE FOREST SOAPBOX.

Seated and playing Yahtzee, left to right:

Hans who is a Swiss short term missionary working with my parents for a few months, Autumn of 秋の歌 (aki-no-uta), and Sister #4 a.k.a Sarah Anne (who still goes to school at the Elliot dinner table).
This is the Elliot dinner table at the Elliot Stronghold in Ajigasawa. Although the table and the building are new since I left home as a seventeen-year-old, the dynamic is still the same and I think that it is therefore fair to say that this is where my education was born. When my parents married they made an agreement not to own a television. Admittedly, I spent a great deal of time at the neighbours' house bypassing this obstacle to my quest for normalcy, but the fact remains that dinnertime at home often stretched into hours of conversation around the table with family and visitors.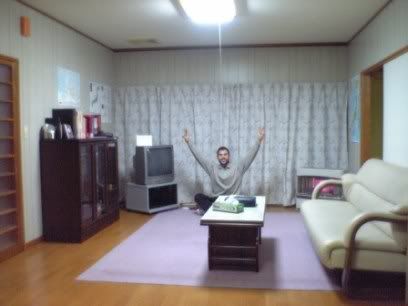 When I moved to Kazamaura last August the village board of education placed me in a fully furnished house with a television set replete with VCR and satellite dish.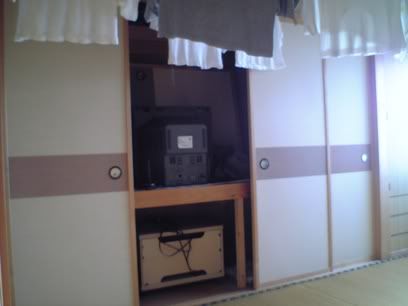 A couple of weeks ago I finally conceded that NHK's nightly broadcasts of foreign films and dramas were pacifying my existence, so I gave the box of crap a new home in the closet.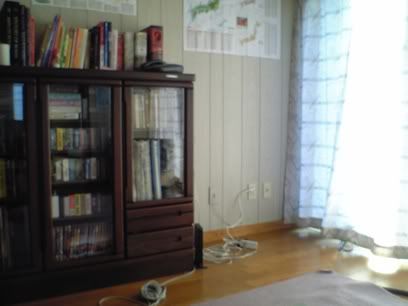 The Void
I think the part I am going to enjoy the most about being without television is shocking people by saying: "I don't have a television." Especially the sort of people who think that television is the instrument of being an informed and responsible member of society. It will be a pleasure to disappoint them with my social irresponsibility. Maybe I will even tell them that I don't feel bad at all for not realizing that the Pope was dead until someone mentioned it a few days after the fact. There will still be one dilemma on my mind though: next time the NHK man comes to collect the NHK fee should I convince him that I'm just one more lousy liar by telling him that I really and honestly for totally truly don't have a television, or just pay?