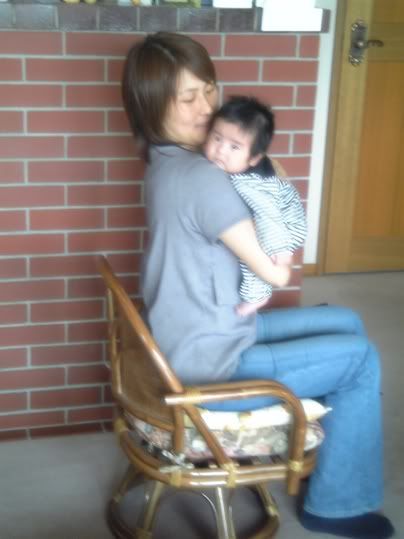 奏稀 (Souki) with His Mother
Boys' Day on 5 May has been officially designated as "Children's Day" in Japan since 1948. It would seem, however, that this is a superficial gesture (and unnecessary, since
Hina-Matsuri
—The Doll Festival—celebrated on 3 March is basically "Girls' Day"). On Children's Day people still celebrate
Tango-no-Sekku
, fly their tubular
koinobori
("Ascending Carp" flags), and set up warrior dolls in glass cases. All these observances represent an earnest desire to see their sons grow up to be strong, aggressive, and self-confident.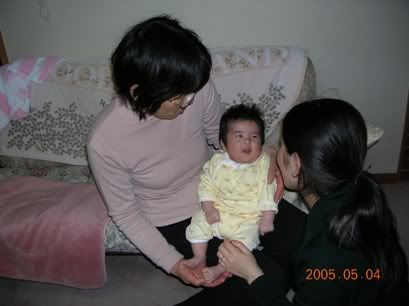 奏稀 (Souki) with His Grandma Takahashi and His Aunt Yuko; I Am Myself Soon to be Legally Bound to奏稀 in the Capacity of Uncle
This year's "Children's Day" was a very special occasion in the Takahashi family due to the birth a few months ago of奏稀 (Sou-ki): first grandchild; first grandson. 奏 means "-play music, speak to a ruler, complete." 稀 means "-rare, phenomenal." My understanding is that his name is meant to evoke the image of a rare musical performance. In honour of his debut into the Takahashi family Yuko's parents brought out the old warrior doll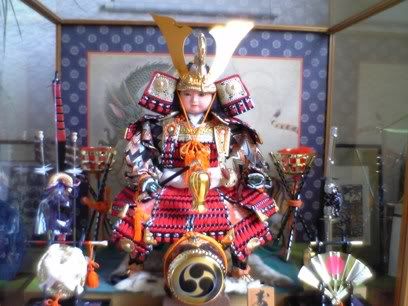 originally purchased by Mrs. Takahashi's parents for Yoshiyuki (father of奏稀).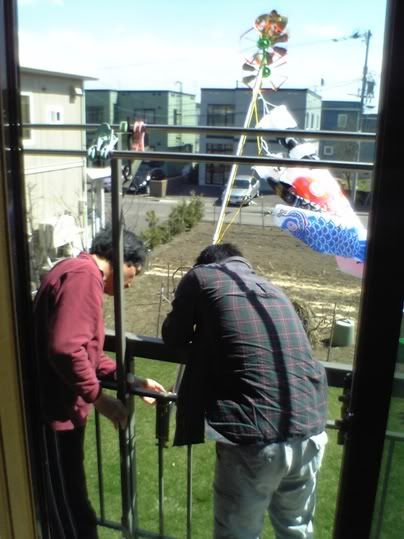 Father and Grandfather Setting Up a Moveable

Koinobori

in Honour of Little 奏稀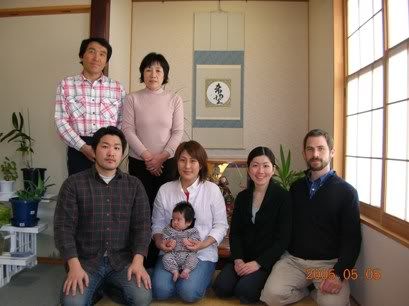 Boys' Day Family Photo
Back row:

Mr. and Mrs. Takahashi Sr.;

Front row:

from the left: Mr. and Mrs. Takahashi Jr. with baby 奏稀 and the Mr. and Mrs. Elliot in Waiting
I'm really looking forward to next year when little 奏稀 will be old enough (I hope) to undergo the time old ritual of having 1.8kg of
mochi
(pounded rice cake) tied to his back. Apparently the idea is to knock the kid over once he's taken a few steps. If he gets up again and keeps walking, it means he is growing up to be a fine, tough young man. I think it's great! According to Takahashi family lore, when Yuko's little brother Yoshiyuki was put through this "ordeal by mochi" she was so jealous that she insisted on getting a turn, too. They even have the photo album to prove it.