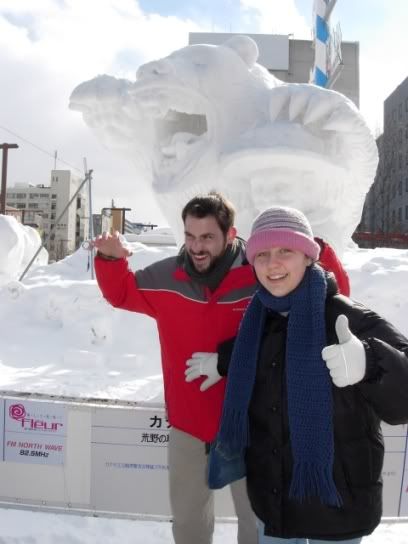 I don't think anyone mentioned back in February that the winner of the Sapporo Snow Festival's international snow sculpture contest was Canada's entry: "Holding Back the Wilderness."

Background:

Canadian Mountie good naturedly restraining an overly enthusiastic grizzly bear.

Foreground:

Sister #4 holding back Brother Bear. Photo courtesy of Sarah H.
Gaijin for Life
has lost Mobile Man but not its faith in the organization's future. We are therefore announcing the launch of our summer "Find a Bear" campaign.
Gaijin for Life
will attempt to track down and digitally shoot one of Shimokita's unique crescent moon bears (ツキノワグマ:
tsuki no wa guma
) during the summer of 2005. Stand by for the official launch and subsequent updates!!!