I have been asked a good many times over the past couple of weeks whether I am getting nervous about the upcoming wedding. As a general rule I have been responding with an affected air of nonchalance. "Well, I'm not actually in Sapporo right now, where it's all going to take place, and our engagement has been so long that we've really had quite a long time to prepare . . . ." However, this past weekend I
was
in Sapporo where it is all going to take place, and although by day Yuko and I continued ticking off our checklists with clockwork precision, by night I was tormented in the murky forests of my subconscious by one wedding fiasco after another. As is usually the case with nightmares, the residual details clinging to my daytime psyche are sketchy. However, I do know that in several versions I lost all my facial hair in an unfortunate shaving accident. This was not only shocking and painful, but it left me on the wedding day looking something like Munch's victim in
The Scream
. Also, I repeatedly found myself alone in the groom's dressing room at 10:50 a.m., tie in hand, and dressed in nothing but my tuxedo pants————wondering where all the groom's men were; wondering if this was Friday or Saturday; alternately being terrified that I was about to miss my own wedding and being flooded with unspeakable relief as I realized it might still be Friday. It was probably Saturday, though.
Fortunately, Yuko and I have set our minds to take it easy and enjoy the ride.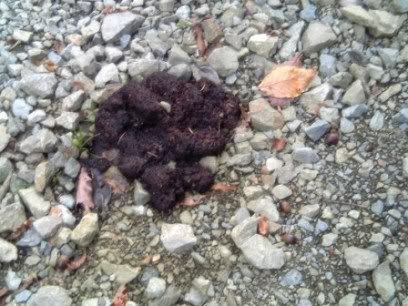 Operation Bear Watch

News Flash:
This is a reminder that on 15 November of last year
Gaijin for Life
staff discovered
bear spoors on the Ikokuma Forestry Road
. This evidence is indicative of
Gaijin for Life's
upper hand in the Find a Bear Campaign and we encourage our readers to closely monitor our unfolding story as we track these feces back to the mobile discharge unit whence they originated.